About Us
OUR RICH HISTORY
The Lucadello Company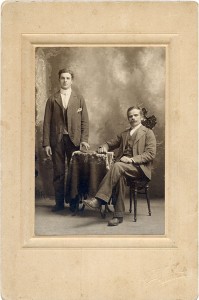 is a business steeped in family values and a heritage that began in the Veneto Region of Italy in 1855. The firm is a continuation of the Lucadello Construction Company, founded 160-years ago, by Giuseppe Lucadello in San Zenone, just outside of Bassano Del Grappa. The passing of skill sets from one generation to another was a core value our great-grandfather Giovanni Battista Lucadello inherited from his father Giuseppe and instilled in his sons. During this time the third generation of Lucadello builders was being raised and coming into their own.
Today, The Lucadello Company is owned and operated by the fifth generation, and grandchildren of Giuseppe, Roberto and Domenico Lucadello. These three grandsons and Carlo Ziliotto, husband to Annalisa Lucadello (Sister to Giuseppe Lucadello), are carrying on the long, storied tradition of The Lucadello Company into the 21st Century, and exceeding client expectations, just as their grandfathers did.
From this foundation, Lucadello has succeeded in becoming a respected and sought-after client advocate. The company is led by Giuseppe Lucadello. As managing partner, he takes care of planning, architectural engineering, sustainability, project management, and consulting services, always with an international vision.
As an expert in planning and construction of "Near-Zero" energy homes, anticipating the European Union Directive for 2020 Energy Performance of Buildings (EPBD) he took part in the first International Course of the European Project CEPH (Certified European Passive House Designer) held in Darmstadt (Germany) in 2010; he is founding member and Vice-President of the Passive House Interest Group in the Veneto Region (IG Passivhaus Veneto).
He brings the requisite leadership and vision to move the company forward and ahead of the dynamic capital infrastructure landscape in Italy and Europe.
CORE VALUES
The region in which our profession has excelled over the years is Veneto.    Veneto is the northeastern Italian region particularly rich in history, culture, natural/architectural resources (Venice, the Dolomites, Palladio, Venetian Villas). Veneto is also characterized by a combination between consolidated attachment to traditions, with a favorable attitude to innovation, and entrepreneurship (furniture, clothing, sportswear, appliances, chemicals, jewelry, mechanical, and design).
Our activities therefore developed into an unwavering commitment to meet the special needs of clients in our area; and, concurrently, for the preservation of natural/architectural resources and the needs of our community. In essence, The Lucadello Company's focus is on Exceeding Client Expectations.
Our business approach has always been supported by maximum transparency and impartiality whenever dealing with companies under our direction, entrusted by our clients, or by us on behalf of our clients, in order to guarantee maximum fairness, integrity and efficiency.